A true story about a very special "thank you" card made by prisoners and given to their camp commander at the close of World War II. This story is told by the youngest son of 1st Lieutenant Roland D. Crites.

---
I learned something of the great hearts and souls my parents had as a young man of 22 years. My father had passed away 8 years previously and my mother 3 years before that. I received in the mail a large manilla envelope from my Aunt Edith. In it I found an old and unusual document made with ink and pastel colored pencil. I cherish it and feel gratitude every time I see it. Before I share with you its contents you must understand the circumstances of its creation.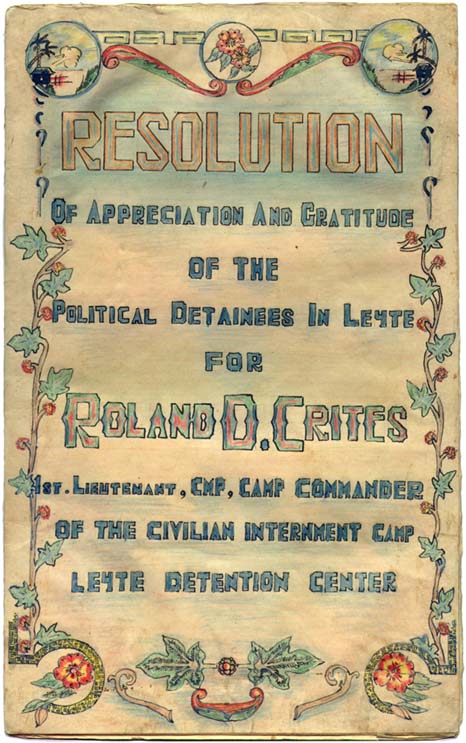 My father was fulfilling his duty in 1943 by serving in the U.S. Army during World War II. Due to his previous experience in law enforcement as a police officer in the Portland (Oregon) Police Department, he was assigned as a guard at the Topaz Internment Camp in west central Utah. There he learned the necessary procedures to care for detainees and other prisoners of war.
My mother grew up in the small central Utah town of Fillmore, nestled at the foot of the mountains with a broad view of the western desert. Fillmore was, as it is now, an agricultural and ranching community where people grew up with strong family values, well acquainted with hard work, with a strong sense of right and wrong, and a desire to serve their fellow man. About 35 miles away is the town of Delta, a town similar to Fillmore but slightly larger, and 8 miles west of Delta was Topaz.
A dance was held one evening in Delta. Locals were present as well as the U.S. Army personnel from Topaz. It was here my parents met. I wish I had more details of this meeting but it has been lost with time. Eventually they married, were transferred to Stockton California, and began their lives together during a tumultuous period of world war. They conceived a son, my brother, and I suspect life seemed relatively rosy for the new couple. Change however is common and frequent in military life, and especially so during this time. Dad received an assignment to be the camp commander of the political detainee camp in Leyte, Philippines.
Little imagination is required to perceive the feelings involved for these newlyweds. Separation, even for a week under good circumstances, is unwanted and difficult. Dad was sent as a serviceman to a place nearly halfway around the world, and the world was at war. Their first child was, as yet, unborn. The new assignment must and would be fulfilled, but hearts would ache across an ocean.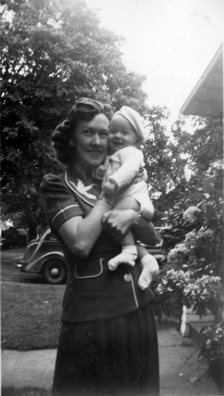 Mom returned to live in Fillmore while Dad was overseas. There my brother Gary was born and was well cared for with the help of my Mom's family. Gary started his life thinking that Uncle Pratt was his father. I suspect that "worried" was a frequent state of mind for Mom during this time. Worry for her husband's safe and honorable return. Worry over the real possibility of serious injury, exotic illness, and how he would behave in the circumstances he lived in. I have none of the letters exchanged between the two to get a better glimpse of their thoughts and feelings at this time, but I'm sure that it was a fearful time for them both.
Time passed, battles were fought, good men lived and died to bring peace and order to the world. As the war finally ended, local governments were allowed to govern again. Dad was given notice that he would be relieved of duties and allowed to return home in December of 1945. On his final day in camp, all attended an assembly for the departing camp commander, Lieutenant Crites. Here a great gift was given.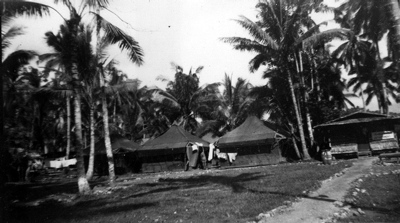 A document, several pages in length, was presented. The cover was meticulously drawn with pen and blue ink and carefully colored with pencils of pastel colors. It was adorned with small circular windows in the upper corners showing a raised hut in each with palm trees and bushes growing around them, and a blue sky with a billowing cloud. The sides were bordered with leafy, flowered, vines and the bottom bordered with red and yellow flowers and larger colored leaves. The following words, bold and centered on the page are decorated with red, blue and green colors.

RESOLUTION
Of Appreciation And Gratitude
Of The
Political Detainees in Leyte
For
Roland D. Crites
1st. Lieutenant, CMP, Camp Commander
Of The Civilian Internment Camp
Leyte Detention Center
Inside the cover, typed on thin, translucent paper is the following.
WHEREAS, by reason of the delivery of the political prisoners to the Commonwealth Government effected on December 10th, 1945, in Tacloban, Leyte, First Lieutenant Roland D. Crites, Camp Commander of the Civilian Internment Camp, Leyte Detention Center, will soon sever his connection and association with us;
WHEREAS, during the period Lieutenant Crites administered the Camp, he showed firmness to duty without failing to demonstrate thoughtfulness by humanizing existing regulations;
WHEREAS, ever since he took charge of the Camp he has, with his kind and human treatment of the internees, lifted their morale and has made their stay in Camp more bearable and less painful; and,
WHEREAS, it is the sense of the internees that Lieutenant Roland D. Crites, during his administration of this Camp has been very understanding, generous and kind to the internees;
THEREFORE, be it resolved as it is hereby resolved, that the political prisoners express as they hereby express to Lieutenant Roland D. Crites, their never failing gratitude and appreciation, wishing him all sorts of success in his future endeavors.
UNANIMOUSLY adopted, this 10th day of December, 1945.
Following this statement are the signatures of each of the 300 detainees.
I think that this gift of appreciation was the best they could do. I imagine the person creating the cover, carefully drawing, coloring, and shading. An artist of sorts. I like to imagine the creation of the words of the resolution so that it conveyed what they truly felt. I consider the person typing it and preparing spaces for all to sign. And then I think of the person who carried the document around gathering each signature which remains indelibly marked on the pages this day. The artistry is wonderful, the thoughts expressed are moving, the unanimous concurrence awe inspiring.
It must have been a touching scene when this was presented to him. I wish it were recorded on film that I could see it and know something more of the joy all present must have felt. A filmed record would be wonderful, perhaps my imagination is equally valuable. But, as touching as it must have been to be part of that experience, there's another scene that I would rather know more of.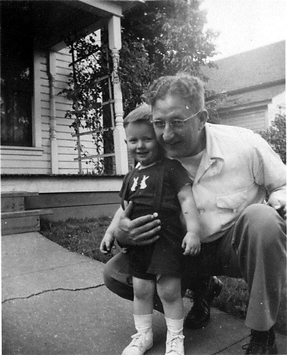 Dad came home to his anxious wife and a new son whom he had never seen. I can't imagine what that must have been like, though far too many have experienced similar circumstances. Many concerns must have instantly vanished. What I like to envision probably happened days later when she saw the Resolution. What a flood of gratitude and pride must have swept over her as she viewed wonderfully prepared document and realized what it meant. The behavior of her husband, with many people subject to his complete command, was received with appreciation and gratitude. She was indeed married to a man whom she could trust. One who, in adverse conditions, would choose the right. A life of love and devotion would continue.
Now this Resolution lies behind a pane of glass, my wife had it framed as a gift to me. From it I get a glimpse into the life of the man who is my father. I never got to know him as an adult, but I know something of the essence of the man and am grateful for this heritage. I doubt that those responsible for this beautiful document could have known the significance of the relatively small and simple thing they were doing. I express my gratitude for theirs expressed so long ago.
Dan Crites
November 15, 1998